The Cher and its needle dams
⑥ The Cher and its needle dams
There are 10 needle dams left on the Cher. In France, there are 124 similar needle dams, including 12 dams on the Nivernais canal.
| | | |
| --- | --- | --- |
| « | To go to stage ⑦ → Go along the playground, you pass in front of the swimming pool and you arrive at avenue Delaunay where you can see the chapel of Seigne on your left. The descriptive panel is located on avenue André Delaunay, 250 m from the crossroads. | » |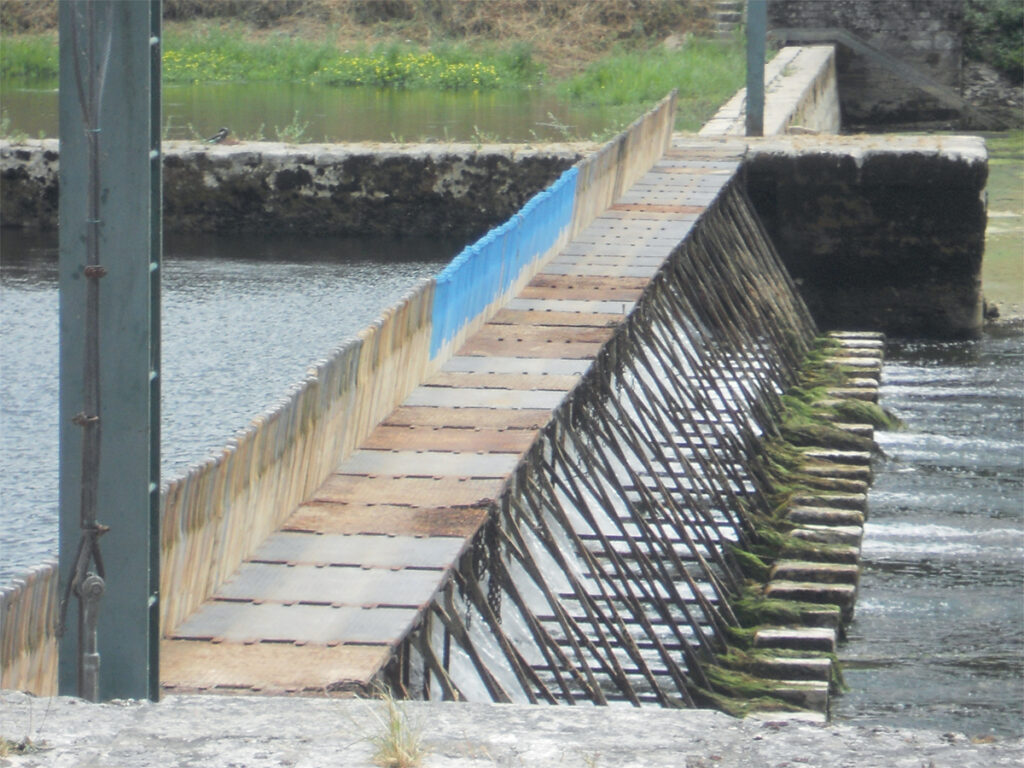 The building of needle dams, between 1835 and 1841, developed navigation on the Cher. Between Noyers-sur-Cher and Tours sixteen dams maintained a water level allowing flat-bottomed boats to navigate the river via locks. Only ten dams of this type remain in France, seven of them in Indre-et-Loire. An active trade took place between 1845 and 1920 with the transport of wood, coal, wine and tuffeau stone. This business stopped with the advent of transport by rail or road.
The needle dam was invented in 1834 by the French engineer C. A. F. Poirée.
© Photo : droits réservés
The Poirée system is a series of steel 'A' frames joined horizontally by steel girders, which traverse the river with a small footbridge on top of them. Square or rectangular lengths of wood called needles are then put next to each other, vertically, between each 'A' frame and resting against the girder at the top and a cast kerb at the bottom, forming a curtain and thus curtailing the flow of the river. The needles are between 8 and 10 cm square and 2 to 4 m long and have a handle formed at the top to facilitate placing. The number of needles used depends on the depth of water required for the locks. The system allows some water to pass. The 'A' frames can be folded down to the river bed in times of flood.
Each lock has a lock house comprising two lodgings, one for the lock keeper and one for the dam supervisor.
In 1926, the Cher was removed from the nomenclature of waterways. In 1955, the State conceded the management of the Cher and its works to a mixed syndicate.
© Photo : droits réservés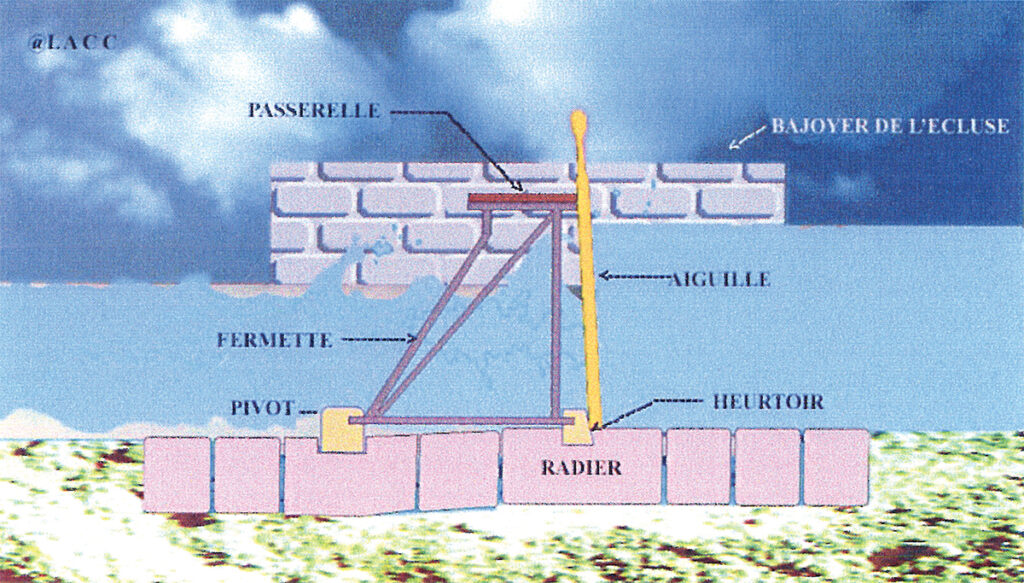 Quiz
What is the name of the pieces of wood
curtailing the flow of the river ?