The cemetery and its noteworthy tombs
⑨ The cemetery and its noteworthy tombs
In this cemetery, some tombstones deserve attention, in particular, the monument built for Nelly Chaumier, sculptured by Hector Guimard, a famous Art nouveau architect.
«

To go to stage ⑩ →
– If you are driving or cycling, retrace your steps, rue du 11 Novembre. You continue towards Vierzon, until the roundabout which precedes the industrial zone of Bois-Pataud. At the roundabout, turn right and pass in front of the Bois-Pataud manor, private property to which access is prohibited. By turning right in front of the alley, in the direction of Varenne, then the first on the left, for 150 m (route d'Argy), you have an overview of the manor and find the description at the edge of the road.
– If you are on foot, cross the cemetery and exit through the back gate. At the end of the small path, you are rue de la Varenne. Going left, you join stage ⑩ (2 km round trip). To have an overview of the manor of Bois-Pataud and read the description placed at the edge of the road, take, for 150 m, the small road on the right which leads to the hamlet of La Rabauderie (route d'Argy). Access to the Bois-Pataud manor is prohibited.
If you want to avoid this stage ⑩, you continue in the rue de la Varenne, towards the city center, towards stage ⑪. At the end of rue de la Varenne, at the big crossroads, continue straight on, rue de Culoison, to stop in front of the Fief Gentil mill.

»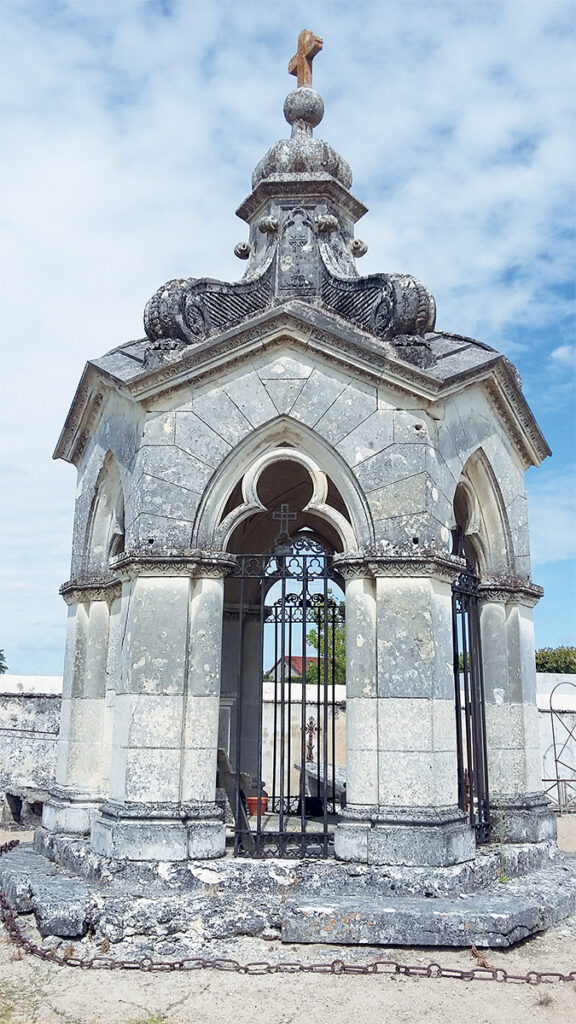 The oldest tombs in this graveyard built on land acquired by the municipality in 1838, can be found to the north west. The tomb for Auguste Lemaître, owner of the Coursicauderie (now the town hall) and his wife Françoise Gaberot is among the most noteworthy (1840). This chapel, in neo-gothic style, is typical of the funerary architecture of the time, designed to demonstrate the social status of the deceased and the prestige they enjoyed.
Nearby is a more modest tomb : that of the Marcel family, gardeners to the Lemaître and whose son Raymond became prelate to Pope Paul VI.
There are other tombs in this ancient part of the graveyard and they are also characteristic of funerary art at the end of the 19th and beginning of the 20th century : headstones surrounded by iron or cast iron balustrades protecting the grave, truncated columns symbolising the sudden end of life as well as vertical pillars decorated with crowns, medallions and other items. The most important monument is, unquestionably, that built for Nelly Chaumier, around 1897-1898, by the famous Art Nouveau architect Hector Guimard (well known for the entrances to the Paris metro).
Quiz
What is the meaning of a truncated column ?