The Chateau of Fontenay and the house called 'du passeur'
㉓ The château of Fontenay and the house called 'du passeur'
The castle was rebuilt in the 19th century after having been burnt down by the Prussians in 1871. The ferryman's house evokes the period of Second World War, when some people tried to escape from the northern occuped area and needed the help of a ferryman to cross the river Cher.
«

To go to stage ㉔ → There is still one stage : Les Grandes Fontaines.
– on foot, if you are brave enough for a little walk up to stage ㉔, walk back to la Route de Tours, in front of La Grisolette. Opposite the Grisolette gate, on the other side of the road, follow the path leading away from the river Cher. About 1 km further, you find a road (a place called La Coudraye). Go straight on to the northeastern entrance of the Grandes-Fontaines park.
– If you are cycling or driving, you go back to la Route de Tours and, towards Tours, take the first road on the left (Be careful on the bend). You cross the Fontenay valley. At the crossroads, turn right towards le Haut Village. At the exit of le Haut Village, take the first on your left and go straight on to the signpost indicating Les Grandes-Fontaines (on your left, you have passed a narrow paved road indicating "private property" which lead to the pumping station). From le Château de Fontenay, you have been traveling about 2 km.

»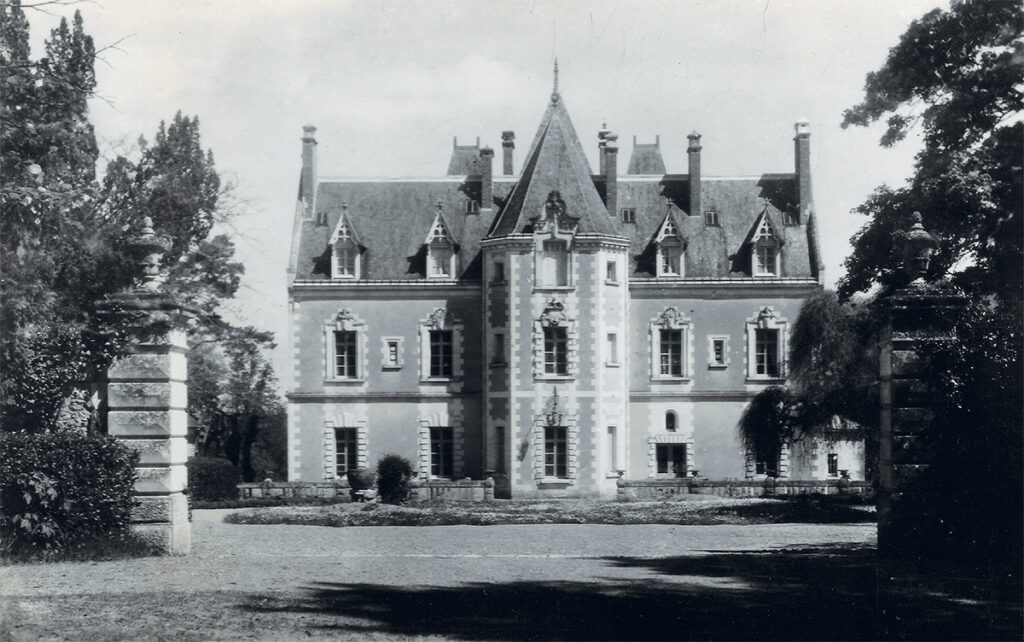 A fortified dwelling stood on the site of Fontenay in 1350 before a rich bourgeois family from Tours built the first château in 1680.
In 1871, while owned by the architect and painter Auguste Bucquet it was burnt by the Prussians in an act of reprisal but was rebuilt on its earlier foundations in the form it is found today.
Below the property, stands a house called 'du passeur' (the boatman) reminding one of the time when a boat brought residents across the Cher. In the second World War, it was used as a secret passage from the demarcation line (the river was the demarcation line). Remains of the gallo-roman aqueduct which brought water from 'Grandes-Fontaines' towards the town of Tours can be spotted a bit further along the Cher.
Today the château of Fontenay is made up of 15 hectares of sustainably farmed vineyard with the AOP* label for Touraine and Touraine-Chenonceaux wines.
You can see the buildings of the Fontenay mill, which belonged to the château de Fontenay and were rebuilt in 1894 after a fire, just before you arrive at the château.
Quiz
What was doing the boatman ?