La Grisolette
㉒ La Grisolette
A curious residence in Touraine is this Anglo-Norman style 'castle', built at the very beginning of the 20th century.
The panel replacing La Grisolette in its history can be read on the banks of the Cher.
| | | |
| --- | --- | --- |
| « | To go to stage ㉓ → If you are on foot or by bike, continue your walk on the 'Cher à vélo' path. About 130 m away is the ferryman's house. If you came by car, you walked past the ferryman's house (stage ㉓) before returning for about 130 m on the 'Cher à vélo' path towards Bléré to read the description of 'La Grisolette'.Now go to step ㉔ (see on this site the path from step ㉓ to step ㉔). | » |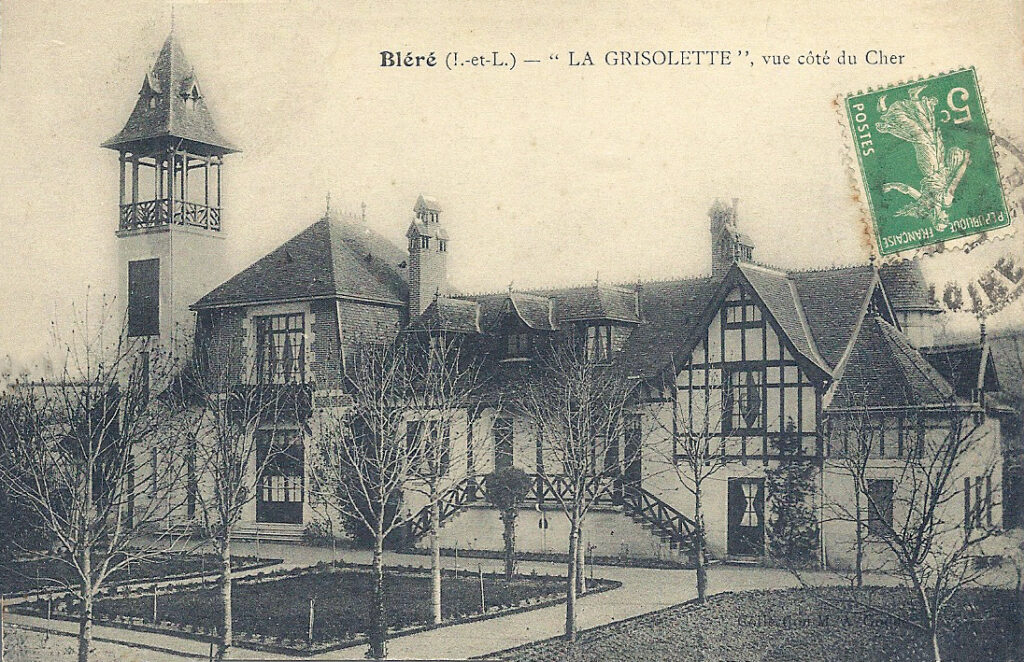 During the nineteenth century several houses were built at the foot of the chateau de Fontenay, on parcels of land on the left bank of the river Cher. However, at the beginning of the following century Albert Godde, an important manufacturer of crepe de chine and chiffon, who was born in Tarare near Lyon, radually began to buy up these plots and had this grand house, La Grisolette, built. It is a villa in the Anglo-Norman style with a coachman's house, stables, sheds and a water tower. The building is remarkable for its woodwork and the chimneys and roof ridges which are decorated with glazed ceramics made in Normandy.
An example of this style of architecture, very popular at the time in seaside towns, can also be seen in Le Castel Beranger in Tours which was built in 1884 to a design by the architect Stephen Sauvestre for the banker Georges Gouin. Before his death in 1915 at La Grisolette, his second home, Albert Godde left a legacy to the local hospital in Bléré for the maintenance of graves.
Quiz
La Grisolette stands on which bank
of the river cher ?