Les Crespières
⑤ Les Crespières
The current building, privately owned, was built in the 19th century.
| | | |
| --- | --- | --- |
| « | To go to stage ⑥ → Continue towards La Gâtine, an amusement ground for youngsters. Go to the river bank and admire the dam with wooden needles. | » |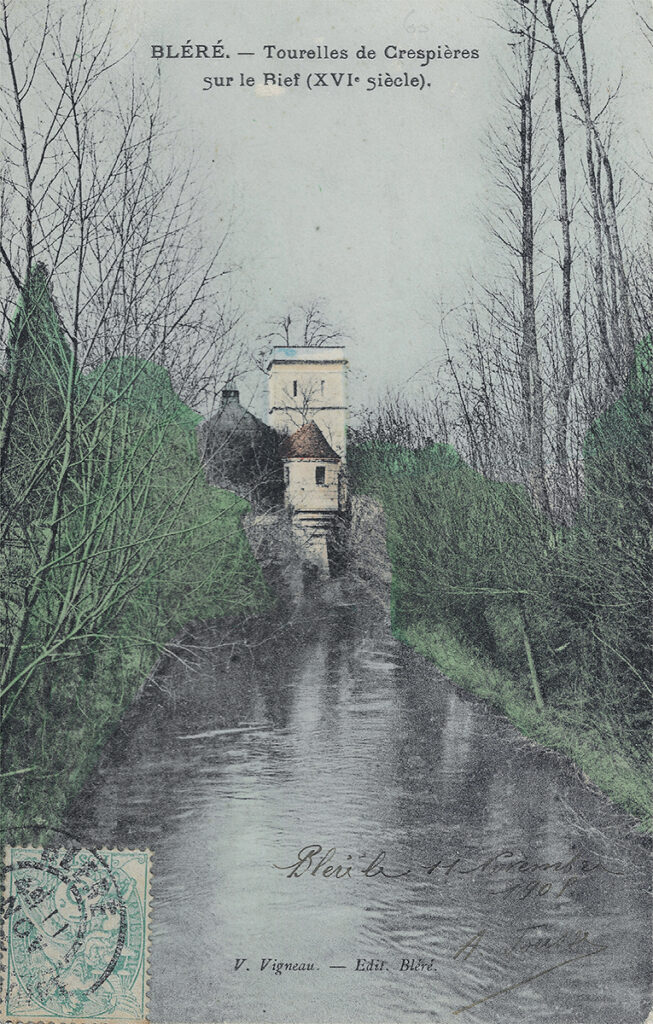 What is known as Les Crespières formerly corresponded to a vast area situated between the present rue du Pont to the west, the Gâtine to the East, rue Belle to the south and the banks of the Cher to the north.

In 1609, Antoine de Dues was its lord and owned several lodgings. Many of these houses have since disappeared but there are still some high spires along the rue du Pont.

In 1653, the land was sold to Jacques de Faverolles, knight and lord of Bléré. His descendants remained owners until the 18th century. The land was divided up at the Revolution but it is worth noting Buhourd d'Argy et Belle family as owners.

As for the house, named Crespières, it was built in the 19th century on the remains of an older one. There are still two 16th century towers both on the property and at its edge. For several years, these towers stood at the edge of the dam built in the 19th century by the Nabon/Belluot family to bring water from the Cher to the mill which they had built at the site of the existing Résidence de l'écluse.
Quiz
What happened to the mill ?