Bois-Pataud
⑩ The manor of Bois-Pataud, private property
You are requested not to enter this property.
This beautiful architectural ensemble from the 16th century was inhabited by Jehan de Seigne who completed the construction of the chapel built in memory of his father Guillaume, in the years 1520-1530 (see stage ⑦).
You have an overview of this manor and find the description at the edge of the road leading to the hamlet of La Rabauderie (route d'Argy, 150 m from the crossroads which leads to the industrial zone).
«

To go to stage ⑪ →
If you were able to appreciate the overall view of the manor from the road leading to the hamlet of Ribauderie, retrace your steps towards rue de la Varenne and turn left towards the town centre. At the large crossroads, continue straight on, rue de Culoison, to stop in front of the Fief Gentil mill.

»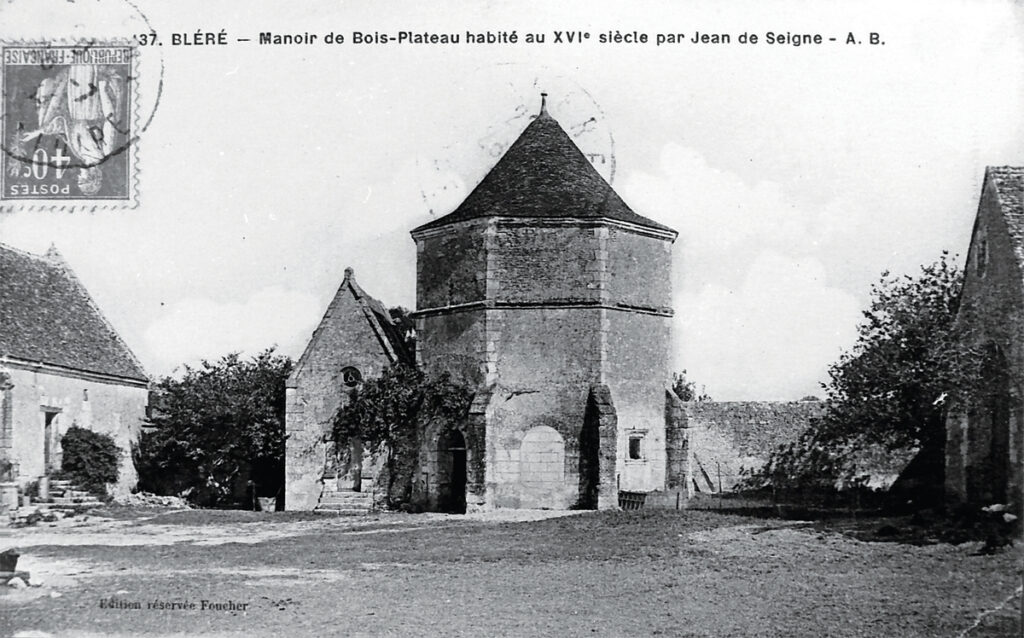 This is a fine 16th century group of buildings, typical of the Touraine, retaining much of its original structure. A deed from 1679 reads that these buildings were a home to a master and the land stretched 140 arpents (equivalent to 48 hectares today).

Most noteworthy is a polygonal dovecote, probably built in the 16th century by the Seigne family who owned it. Out of use today, it retains the small niches where pigeons roosted. The small chapel attached to it dates from the same period ; to the south, a barn with its original beams. To the north-east, the master's house has fine stone fireplaces and a cradle-shaped well carved into the stone.

In feudal times, Bois-Pataud belonged to the fiefdom of St Julien in Bléré. In 1522, the abbey of St Julien agreed to the building of a feudal property by Guillaume de Seigne, Lord of the Land and treasurer of the king's artillery. In 1659, Jacques de Faverolles, lord of Bléré, bought it and the land remained part of Bléré until 1830. Cultivation of the land with a share of the profits was granted to local farmers.
Quiz
What is a fuie ?